Meet The Hunger Project-UK trustees and staff.
We work together to build a community of like-minded people in the UK who are committed to the sustainable end of world hunger.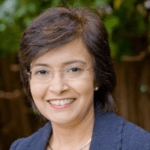 Manda Lakhani
Co-Chair & Trustee
Manda became an investor in The Hunger Project in 2017 and a year later, because a Trustee of The Hunger Project UK. She stepped up to the role of Acting CEO in October 2020 and has since been steering the organisation through the challenges of the Covid-19 pandemic.
As an experienced business consultant working across multiple fields including marketing and finance, Manda has led teams in a variety of organisations including UK Atomic Energy Authority, Prudential, Hill Samuel, and Nomura Asset Management. Manda left the corporate world to focus on her family, which she did alongside running a successful health and wellness business with a team of over 30 women. She also continued her pro bono work across the charity and small business sectors.
Manda has a long held passionate belief in female empowerment and championing under-represented talent in the workplace.  She has spoken at a number of events on gender parity, diversity & inclusion and health & wellness, including raising awareness of the menopause.
At The Hunger Project UK, Manda has been instrumental in re-launching and growing the Unleashed Women network; recruiting a cohort of female business leaders to maximise their own limitless potential and make a positive change, using the inspiring, transformative global work of The Hunger Project. In her role as Acting CEO, she is spearheading the vision of The Hunger Project to unlock the potential support of the UK market. 
Manda holds a Masters in Business Administration (Finance) from Cass Business School and a BSc (Hons) Chemistry and Management from City, University of London. Alongside her role at The Hunger Project UK, Manda is a Senior Advisor to the President of the Parmarth Niketan Ashram in India, advising on international activity and collaboration. She also supports and advises the Board at Action for Happiness and is a consultant and mentor to a number of women entrepreneurs.
Manda lives in London with her husband, Kanesh and they have two grown up daughters. 
Dr Joanna Martin
Co-Chair Trustee
Dr Joanna Martin became Trustee of The Hunger Project UK in 2021
An architect and accelerator of change, Dr Joanna Martin has worked with hundreds of prominent business leaders, campaigners, entrepreneurs and difference-makers across the globe.  She's passionate about the potential of a new kind of leadership grounded in compassion, connection, courage, clarity and creativity: a style of leadership that she has crafted, practised and honed over decades as a medical doctor, serial entrepreneur and founder.
Founder of One of many® a coaching organisation for women leaders and entrepreneurs, her message and work have directly impacted over 100,000 people on 4 different continents. The diverse membership includes politicians, CEOs, partners in major global organisations, doctors, lawyers, accountants, activists, mothers, grandmothers, and daughters – united in their desire to change their corner of the world. As an internationally acclaimed and award-winning speaker she's trained and certified over 1800 coaches, master coaches and trainers in behavioural change tools.
A committed investor and Trustee on the Board of The Hunger Project UK, Jo's trained over 70 fundraisers and facilitators globally. Jo believes that the introduction of diverse modern leadership across every sector, at every decision table and in every part of society will have a transformational impact that's needed now more than ever.
Irena Tullis
Trustee
Irena Tullis became Trustee of the Hunger Project UK in March 2017.
She has 15 years of experience in corporate and investment banking in the UK, Russia and the Czech Republic. During her career break to look after her family, she lived in Argentina, Italy and The Netherlands. She resumed her banking career in June 2017.
Growing up behind the iron curtain was instrumental in growing Irena's passion on the importance of women's education and self-reliance. Irena volunteered for charities in Argentina and The Netherlands.
Irena has two children. In her free time, she enjoys running and cycling. She plays piano and sings in a local choir.
Monique Surridge
Trustee
Born and raised in The Netherlands, Monique moved to the UK to do her MSc in Tourism Planning and Development at the University of Surrey. At one of the big 4 consultancy firms, Monique worked on national tourism strategy plans for both public sector as well as private sector clients. Most of her projects were across Africa, the Caribbean and the Middle East. Having worked with donor agencies and governments in developing countries she is a strong believer in women's empowerment.
Monique joined the Board of Trustees in 2017.
Elspeth Cox
Company Secretary, Board of Trustees
Elspeth is The Hunger Project UK's Company Secretary, a position she has held on and off since 2014.
A Fellow of the Chartered Governance Institute, Elspeth has extensive experience in the charity and non-profit sector and has worked with a number of organisations including English Heritage, The Theatres Trust and the Imperial War Museum. Elspeth has also worked in a number of voluntary roles with the Ramblers Association, most recently as their Committee Treasurer, and as a Trustee of Paul's Cancer Support.
Alongside her work with The Hunger Project UK, Elspeth has worked at Macmillan Cancer Support for over 17 years and in 2018 became their Company Secretary.
Rebecca Burgess
Country Director
Rebecca joined The Hunger Project as Country Director in April 2022. 
Listed in Management Today's 35 Women Under 35 list 2020, the longest-running, most prestigious list of young, female business talent in the UK, Rebecca is an accomplished leader.  
She joins The Hunger Project UK following leadership roles in sectors including climate, health, policy, and gender. A confident speaker, she's been invited to share her thoughts on a variety of forums, including the prestigious edie Sustainability Leader's Forum. 
Before joining The Hunger Project, Rebecca was Interim Director at She Changes Climate; a campaigning group calling for equal representation of women at the top levels of all climate negotiations globally. A passionate environmentalist and advocate for gender equality and human rights, Rebecca calls for these issues to be tackled together, not separately. She also urges for the voices of those who are most impacted by climate change and poverty to be heard; something central to The Hunger Project's global strategy. 
Previously Chief Executive of City to Sea, she transformed the not-for-profit into a globally respected thought leader on circular economy practices. In 2021, the organisation featured on Escape The City's Top 100 List, depicting her focus on team wellbeing. Passionate about business being a force for good, she trained as a B Leader in 2017 and as Chief Engagement Officer at carbon accounting software Spherics, she oversaw their B Corp Certification.  
Rebecca moved to the Southwest of England, after 10 years shaping sector leading community programmes with a variety of companies and not-for-profits in London. Whilst working in the charitable sector, Rebecca has won many industry awards including a Corporate Engagement Award, Utility Week Award, Better Society Award, Business in the Community 'Big Tick' Award, Global Good Award and Business Charity Award.  
In 2019, Rebecca was listed in the WISE100, recognising the most inspiring and influential women in social enterprise, impact investment and mission-driven business.  
Relevant reading: 
With only a small team in the UK, The Hunger Project could not achieve our work towards the end of hunger without the enthusiastic and incredible volunteers who support us.  We work with people with various experiences, including PR, marketing, fundraising, social media, events management and graphic design. For more information about volunteer opportunities and how to be part of our community ending hunger, contact us at info@thehungerproject.org.uk
"Every woman should be skilled and economically self-reliant… Otherwise, the problems of women could never be solved…"
"I worked with the teachers, sensitising the school children on the effects and the harms teenage pregnancy can do to them."
"Now I do not pass the night without food and my other family members can eat full meals at night."