Meet The Hunger Project-UK trustees and staff.
Industrious, passionate and committed; our team is a small but mighty force. We work together to build a community of like-minded people in the UK who are committed to the sustainable end of world hunger.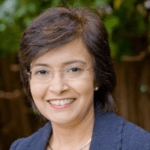 Manda Lakhani
Co-Chair & Trustee
Manda became an investor in The Hunger Project in 2017 and a year later, joined the board of Trustees. She stepped up to the role of Acting CEO from October 2020 – April 2022, helping to steer the organisation through the challenges of the Covid-19 pandemic.
As an experienced business consultant working across multiple fields including marketing and finance, Manda has led teams in a variety of organisations including UK Atomic Energy Authority, Prudential, Hill Samuel, and Nomura Asset Management. Manda left the corporate world to focus on her family, which she did alongside running a successful health and wellness business with a team of over 30 women. She also continued her pro bono work across the charity and small business sectors.
Manda has a long held passionate belief in female empowerment and championing under-represented talent in the workplace.  She has spoken at a number of events on gender parity, diversity & inclusion and health & wellness, including raising awareness of the menopause.
At The Hunger Project UK, Manda has been instrumental in re-launching and growing the Unleashed Women network; recruiting a cohort of female business leaders to maximise their own limitless potential and make a positive change, using the inspiring, transformative global work of The Hunger Project. 
Manda holds a Masters in Business Administration (Finance) from Cass Business School and a BSc (Hons) Chemistry and Management from City, University of London. Alongside her role at The Hunger Project UK, Manda is a Senior Advisor to the President of the Parmarth Niketan Ashram in India, advising on international activity and collaboration. She also supports and advises the Board at Action for Happiness and is a consultant and mentor to a number of women entrepreneurs.
Manda lives in London with her husband, Kanesh and they have two grown up daughters.
Dr Joanna Martin
Co-Chair Trustee
Dr Joanna Martin became Trustee of The Hunger Project UK in 2021
An architect and accelerator of change, Dr Joanna Martin has worked with hundreds of prominent business leaders, campaigners, entrepreneurs and difference-makers across the globe.  She's passionate about the potential of a new kind of leadership grounded in compassion, connection, courage, clarity and creativity: a style of leadership that she has crafted, practised and honed over decades as a medical doctor, serial entrepreneur and founder.
Founder of One of many® a coaching organisation for women leaders and entrepreneurs, her message and work have directly impacted over 100,000 people on 4 different continents. The diverse membership includes politicians, CEOs, partners in major global organisations, doctors, lawyers, accountants, activists, mothers, grandmothers, and daughters – united in their desire to change their corner of the world. As an internationally acclaimed and award-winning speaker she's trained and certified over 1800 coaches, master coaches and trainers in behavioural change tools.
A committed investor and Trustee on the Board of The Hunger Project UK, Jo's trained over 70 fundraisers and facilitators globally. Jo believes that the introduction of diverse modern leadership across every sector, at every decision table and in every part of society will have a transformational impact that's needed now more than ever.
Irena Tullis
Trustee
Irena Tullis became Trustee of the Hunger Project UK in March 2017.
She has 15 years of experience in corporate and investment banking in the UK, Russia and the Czech Republic. During her career break to look after her family, she lived in Argentina, Italy and The Netherlands. She resumed her banking career in June 2017.
Growing up behind the iron curtain was instrumental in growing Irena's passion on the importance of women's education and self-reliance. Irena volunteered for charities in Argentina and The Netherlands.
Irena has two children. In her free time, she enjoys running and cycling. She plays piano and sings in a local choir.
Monique Surridge
Trustee
Born and raised in The Netherlands, Monique moved to the UK to do her MSc in Tourism Planning and Development at the University of Surrey. At one of the big 4 consultancy firms, Monique worked on national tourism strategy plans for both public sector as well as private sector clients. Most of her projects were across Africa, the Caribbean and the Middle East. Having worked with donor agencies and governments in developing countries she is a strong believer in women's empowerment.
Monique joined the Board of Trustees in 2017.
Robert James Fernandez
Trustee
Robert became a Trustee of The Hunger Project UK in December 2022.
Robert was born in Buenos Aires and raised in Latin America, the U.S., and Southern Europe.  In total he has lived in 13 countries.
He brings over 30 years of commercial and investment banking experience in the Emerging Markets with assignments in Puerto Rico, New York, Caracas, Hong Kong, London, Moscow and Johannesburg.  Over the course of his career, he has advised governments and public and private sector financial institutions and corporates on their fundraising in the international capital markets.
Robert's last role was as a Manager in the group treasury of Saudi Aramco, based in Dhahran, Saudi Arabia.
He holds a BS in International Economics from the Walsh School of Foreign Service at Georgetown University and a MBA in General Management from the Harvard Business School.
Paul Harbard MBE
Trustee and Honorary Treasurer
Paul became a Trustee and Honorary Treasurer of The Hunger Project in December 2022.
Paul is a Chartered Accountant with qualifications in both Canada and the UK.
Paul has been involved with finance for his entire career, initially as an audit partner in a large international firm and thereafter in the private sector having been instrumental in floating a retirement housing company on the London Stock Exchange. He then moved to Peabody Trust, a large London housing association, as their finance director.  He is now retired and lives in London with his wife. 
In the past Paul has been involved with a number of charities, including being a founding board member of Charity Bank and chair of the UK boards of both Big Brothers and Sisters and Habitat for Humanity.
Elspeth Cox MVO
Company Secretary
Elspeth is The Hunger Project UK's Company Secretary, a position she first held from 2014-2018 and then took up again in 2020.
A Fellow of the Chartered Governance Institute, Elspeth has extensive experience in the charity and non-profit sector. She has worked at Macmillan Cancer Support since 2005, and has been Company Secretary there since 2018. Previous employment includes English Heritage, The Theatres Trust, the Imperial War Museum and the Foreign & Commonwealth Office.
Elspeth has been a Trustee of Paul's Cancer Support since 2020. Other voluntary work includes various roles with the Ramblers Association between 2012-2022.
Diane Gault
Country Director
Diane's joined The Hunger Project in October 2023, and is based out of London.
Diane has worked in the not-for-profit sector for over 25 years, holding director-level roles for 20 years. She is passionately committed to creating a fair and just world for everyone. She is principally a highly accomplished fundraiser, but has also led teams covering Marketing, Press and PR, Communications, Campaigns, Digital, and Membership.  
Diane has a strong track record of developing strategies that have significantly grown charities. She is proud of the transformational change that she has achieved for charities, and more importantly, the people that have been reached and supported as a result of improved income and visibility. 
She is particularly proud of helping charities to grow not just through fundraising success, but also by securing multiple awards for services developed, delivering annual campaigns, such as National Adoption Week, working with governments to achieve change, and creating strong partnerships with organisations including The Royal Foundation which delivered the Heads Together campaign to improve mental health. 
Diane has held several Trustee roles, previously at the Prisoners' Advice Service and currently at Gingerbread, the national charity supporting single-parent families. She holds a Joint Honours degree from Goldsmiths College, University of London, and is a full member of the Chartered Institute of Fundraising.
She also keeps busy with being a mother to Allegra and looking after the family's two dogs and four cats. She enjoys yoga and martial arts, acquiring three black belts in Shotokan Karate and currently training in Wing Chun Kung Fu. 
Diane says "I am hugely excited to join The Hunger Project UK, which truly transforms the lives of people experiencing hunger and despair. I'm looking forward to using my skills and experience alongside our amazing staff and Trustees to take us to the next stage in our development, creating the step change that will enable us to reach and support many more people globally.
Emma Bardsley
Marketing & Relationships Manager
Emma joined The Hunger Project as Marketing & Relationships Manager in November 2021. 
She joined The Hunger Project with a wealth of marketing, events and communications experience in the corporate world, working with a number of brands including Harrods and the Arcadia Group.
Emma's passion lies within gender equality and human rights. She joined The Hunger Project to help make a small difference in achieving the sustainable end of world hunger. 
Sassi Stuckey-Beeri
Fundraising Manager
Sassi was born in Germany, grew up in Hungary with seven siblings and at the age of 18, moved to the UK. She got married in Mexico in 2014 to a half Filipino, half British and they became parents of a lovely, energetic boy, called Ezra in January 2021.
Sassi has over 15 years' experience working with charities and churches, where she has gained a diverse wealth of experience in multi-agency partnership working, strategic planning, fundraising, communications, and public speaking.
Sassi says 'I grew up in poverty but by taking charge of my own future and being empowered by many people I met on my life journey, I now advocate for others to do the same; having the courage to take steps to end their own hunger and believing that they can'.
Having worked in children and youth work for several years, Sassi has been at the forefront of empowering those she works with to reach their full potential no matter their background, age, or financial status. She joined The Hunger Project UK in November 2022 as it makes all the work she has been advocating for over many years into a reality and helps her make a long-lasting change in the world.
Christine French
Finance Manager
An Australian who has made London her home for the past 17 years, Christine is an Administration Officer who is passionate about the detail and loves being organised.  She has a background in Project Management and PMO and has worked at a number of Fortune-500 global companies over the last 30 years as well as smaller organisations.
In between juggling the administration work at the Hunger Project she can usually found in her gym gear either at an F45 or sweating it out in an indoor cycle class.  On weekends she likes to spend time with her husband and two teenage children.
Meet our global family of changemakers from around the world. 
Are you passionate about being a global citizen? Are you looking for a role that really makes a difference? Well, how about joining a global organisation helping to empower women and men to end their own hunger and poverty? If this sounds exciting, we might have the perfect role just for you! 
If you would like to join the community to end world hunger, please get in touch by sending your CV to info@thehungerproject.org.uk  
Are you interested in volunteering? With only a small team in the UK, The Hunger Project could not achieve our work towards the end of hunger without the enthusiastic and incredible volunteers who support us. 
We work with people with various experiences, including PR, marketing, fundraising, social media, events management and graphic design. For more information about volunteer opportunities and how to be part of our community ending hunger, contact us at info@thehungerproject.org.uk 
"Every woman should be skilled and economically self-reliant… Otherwise, the problems of women could never be solved…"
"I worked with the teachers, sensitising the school children on the effects and the harms teenage pregnancy can do to them."
"Now I do not pass the night without food and my other family members can eat full meals at night."